No, I did not expect you to buy the lizard story. Still, thanks for trying.
In fact, the picture shows a dessert: buttermilk sorbet, pickled rhubarb cooked in raspberry juice, and pumpkin-seed oil. It is a part of my new, small Dinner Time gallery, shot last Saturday at the Powidok restaurant in Łódź, Poland.
Our friends took us to this place just a week earlier, and we all liked it enough to sign up for a tasting-menu event coming in a few days, showcasing eight-courses created by chefs of this and two affiliated restaurants. plus two pastry chefs.
The dinner met our expectations (which were set fairly high to start with) regarding flavors, presentation, service, and general attitude.
While the experience was worth the effort and expense, this is about photographs, not about food. I just wanted to get a few casual, existing-light snapshots, but a cell-phone camera was out of question, so I ended up using my traveling-light μFT option: an Olympus Pen Mini with a pancake 12-42 mm zoom. No flash, no tripod, not even getting up from your chair. Not to mention, the existing light was a nightmare: a mix of late-afternoon daylight with both incandescent and fluorescent.
No wonder I resorted to some postprocessing of my in-camera JPEGs, vignetting (sometimes with selective blur), a tad of local equalization, then some mid-tone and color adjustment.
So you thought this time you might get away without having to see a monochrome version of another of my photo galleries? No way, here it is, and if I had to keep just one B&W set, it would be a tough choice between Sturgis, SD and Łódź, Poland.

Anyway, meet the lovely bar maid of Sturgis.

The technique I'm using here is quite simple:
Do the color postprocessing as usual;
Apply the B&W conversion of your choice;
Add just enough of PSP Local Tone Mapping;
Optional: adjust mid-tones.
See also Is It All in Postprocessing? for a different use of LTM. To compare various amounts of it, look here.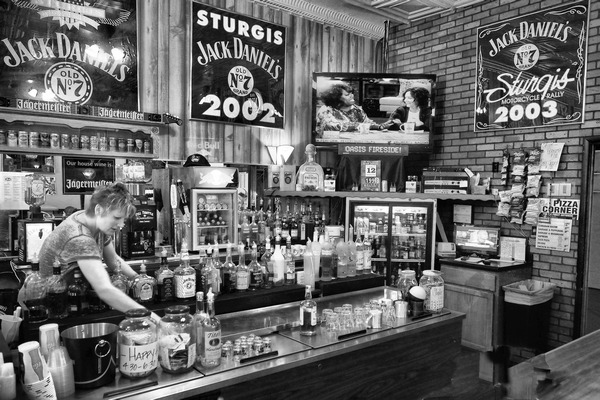 Olympus E-M1, MZD 12-40/2.8 @ 12 mm
Program (-.3EV): 1/60 s @ F/2.8, ISO 1250, Auto WB
Postprocessing in PSP 21
It is important not to overdo the LTM step. Try to keep it low enough to be just a tonal adjustment, not an obvious special effect. Also, so far I was unable to find any implementation of LTM working like the one in PSP (one of the reasons why I haven't switched to GIMP yet).