Greetings from Poland! Baltimore to London, then Helsinki, then Warsaw, and finally a car ride to my old home town of Łódź — rather too much for one day.

Having brought along the E-M1 II with the 12-100/4.0 PRO and 75/1.8, now I clearly see this camera is a bit heavy for me, for travel at least. A good pretext to get the Pen F when it gets updated. I tried the Pen recently and I really like it. It does 99% of things I need, and has the best controls I've seen on a digital camera yet.

Picture of the Week: Bread. The only thing I'm missing in the U.S. The first day after arrival I got three loaves at a food artisan market.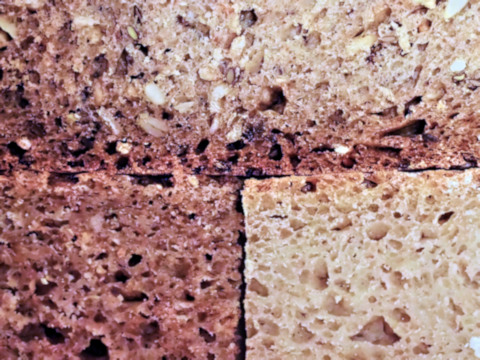 EM-1 Mk.II, MZD 12-100/4.0 at 75 mm
AP (.0 EV): 1/20 s at F/5.6, ISO 6400, Auto WB
The
E-M1 Mk.II in Infrared
article got an update:
noise removal
using
Neat Image
. While the plugin does a very nice job, I still prefer my IR pictures with some noise, the way I get them from the Mk.II at ISO 6400 or even higher.
In a few hours I'm leaving for Poland (again!), where I'll be staying a full month. I decided to take the E-M1 Mk.II along. At first I was planning to go with just one lens, the 12-100 mm PRO, but I am very tempted to bring the 75/1.8, too, even if I never use it.

Instead of packing, I've spent most of Sunday play-working on the E-M1 Mk.II Infrared report. Yes, it's done. No surprises: the camera needs about 1000× (or 10 EV) more exposure in IR than in visible light. The results can be, however, very nice. And with the new sensor/engine combo, the amount of noise in IR images at ISO 6400 is just about right.

With a good Internet access, I will be able to keep adding stuff to these pages, so stay tuned.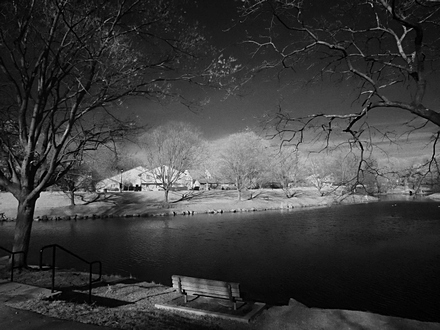 EM-1 Mk.II, 12-40/2.8 PRO lens at 12 mm, Hoya R72 filter
AP (0 EV): 1/6 s at F/8, ISO 6400
Picture of the Week: No, it's not the Crofton Lake; it is somewhere in Yellowstone, almost as pretty.

The E-M1 Mk.II Lens Image Samples article was expanded. I've added three more lenses, each with its own sample page: MZD 12-50/3.5-6.3 EZ, MZD 40-150/4.0-5.6, and ZD 50/2.0 Macro.

The last one is not a μFT lens, but I treat is as such. Its AF system works just fine with both E-M1 bodies, and the resolution is one of the best around.

The main piece got a number of new side-by-side comparisons, plus some other additions and corrections.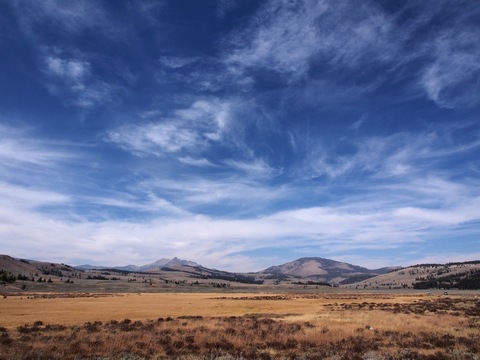 Olympus E-M5 with MZD 12-50/3.5-6.3 @12mm
AP (-.3 EV): 1/1250 s at F/8.0, ISO 200
Equalization and slight cropping in Corel Photo-Paint
Yes, that's the Crofton Lake again. And you know what it means: every time it shows up, I have a bunch of comparative image samples to share with my fellow pixel-peepers!

While I'm not a pixel-peeper myself, some of my best friends are, and if I had a daughter, I wouldn't mind her bringing one for dinner, maybe even marrying him.

I've shot all these samples with one camera, the E-M1 Mk.II, using five different MZD lenses, all in one session. For every lens used three or four focal lengths (if it was a zoom) and a sequence of aperture values up to F/11 (higher values are rather useless because of diffraction).

The house in the middle was the principal subject, and the fence to the left of the tree trunk was the AF target, about 105 meters (just below 350 ft) away from the camera.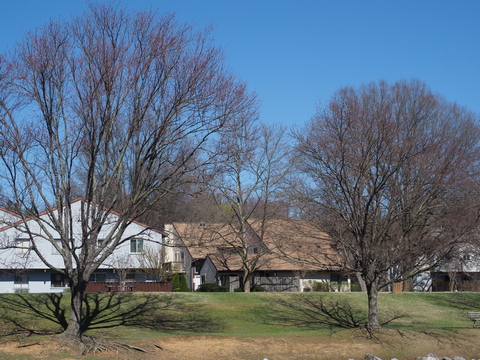 Olympus E-M1, MZD 12-40/3.8 PRO @40mm
AP (0 EV): 1/640 s at F/8, ISO 200, Sunny WB
Here is the main article:
E-M1 Mk.II Lens Image Samples
— a brief summary, comments, some comparisons, but no image samples for individual lenses. These have been packaged into five individual pages:
MZD 12-40/2.8 Pro,
MZD 12-100/4.0 IS Pro,
MZD 14-42/3.5-5.6 EZ
(Pancake),
MZD 75/1.8
and
MZD 75-300/4.8-6.7.
You do not really have to look at these sample pages (unless you need to check a particular sample or really have nothing better to do), but the top-level piece may be a useful reading.
The image at the right is a full-scale (1:1) fragment of an HR Mode image from the Olympus E-M1 Mk. II camera.

I just posted a full report on the subject: Olympus E-M1 Mk.II: High Resolution Mode, so have a look. It took me a week to write it, and to shoot the image samples. Importantly, it includes some information on how this technique works.

The sample shown links to the full 50MP image. One night I spent a whole hour just looking at it, mesmerized, enjoying the detail, ink texture, half-tones in the near-white paper and more. This time Olympus impressed me for real.

The whole picture, viewed in the same scale, would be 4.25 times wider than your HD monitor, which makes the detail you see just astounding.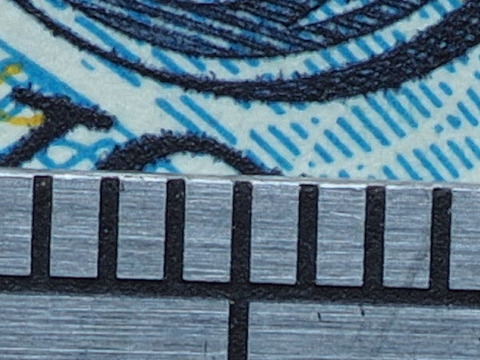 Olympus OM-D E-M1 Mk.II, legacy ZD 50/2.0 Macro lens
HR Mode, AP (0 EV): 1/15 s at F/8, ISO 200
This is not a technique for everyday photography. It requires a lens with great resolution, a static subject, a firm tripod and some patience. But when it works, the experience can be very rewarding, even if the results are hard to see in a print or screen display under normal conditions.
I believe this lens is not getting the appreciation it deserves: the MZD 75-300/4.8-6.7 is one of the very few long telephoto lenses for Micro Four Thirds and, in proper hands, it will deliver most enjoyable results.

To make a point, here is a new report: E-M5 Real-Life Image Samples Using the MZD 75-300.

True, you can get better results with the 300 mm F/4 IS PRO — at three times the weight, twice the size, and five times the price. This makes the 75-300 "the long tele for the rest of us".

The Panasonic 100-300/4.0-5.6 G (now in Version II) seems also attractive, with a half-stop advantage in aperture, but I believe is a tad behind optically. Still, worth a try.

Some of the same images, after post-processing, ended up in a new Gallery page: Maryland Renaissance Festival II. Have a look.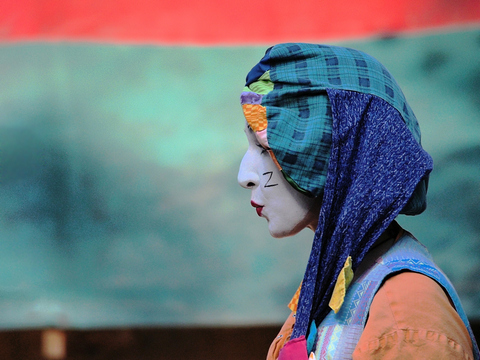 Olympus E-M5 with MZD 75-300/4.8-6.7 @300mm
AP (-.7 EV): 1/800 s at F/6.7, ISO 800
Isn't this March? In Maryland? So why do I have this view from my bedroom window? And why isn't all this melting? Something is very wrong here.

My patio gate is frozen shut, so I won't be going out much the next two days or so. I am stocked, though: half a pizza, two cans of chili, five sixpacks from Duclaw. Not bad.

It turned out that the Noise Filtering and Sharpness... report, posted just yesterday, was very slow loading from the server, with all those images embedded. Splitting it into four parts helped.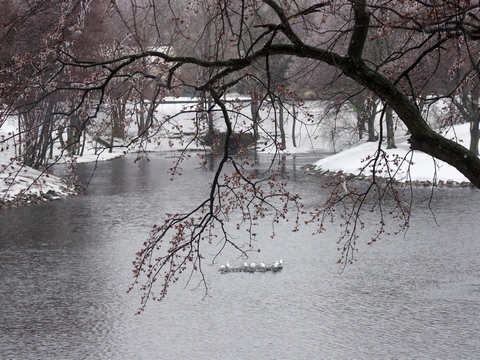 Olympus E-M1 Mk.II with 12-100/4.0 IS PRO lens at 75 mm
AP (0 EV): 1/3200 s at F/7.1, ISO 1600, Auto WB