The Great Silk Road: after having posted the new Gallery page on Samarkand, I went back to my other Silk Road pieces and re-did the postprocessing of all image scans. Khiva is now no longer in black-and-white, while Bukhara got some extra color punch.
Look what we've got here.
The time is 1981, the place — legendary city of Samarkand in Soviet Uzbekistan; a capital of empires, home to poets, doctors, and astronomers, now a sleepy, forgotten town somewhere in Central Asia. And this is the local marketplace.
I just finished a "better" postprocessing run through my ORWO UT21 slide scans from Samarkand (1970, 1975, 1981), and here it is my newly-posted Samarkand Gallery page.
Technically, these images do not impress. The East German ORWO slide film I used, the only option East of the Iron Curtain, was rather bad to start with, and did not age gracefully. The grain was obscene, and some colors way off-mark. Still, the pictures are mostly better than those you can find on Wikipedia, and it would be a shame not to post them.
See my other two Silk Road Galleries: Bukhara and Khiva.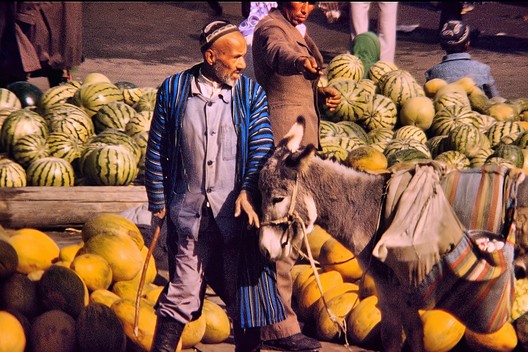 Minolta XD5, lens and exposure not recorded
ORWOChrome UT21 film, scanned to Kodak Photo CD
The Magic Hours
article: it took me another five days to finish it. Sort of. The title has changed in the process, so did the scope It is no longer just about postprocessing, as originally intended.
Obviously, updates will follow. For now, the piece briefly explains how the light separates into blue and red components, how they affect the image, and how their proportions change with time. Yes: the Golden Hour and Blue Hour are two parts of one and the same, superimposed, with continUously changing proportions.
Six examples are included, each showing the steps of processing from the in-camera JPEG to the final (?) image; some with extra options. These are not intended as recipe, but rather as a starting point suggestions to your own experiments, if you decide to go deeper into the subject.
The article uses a lot the Flipper mechanism for displaying multiple images. I'm quite happy with the way Flipper and Swapper work, and both got a few updates last week.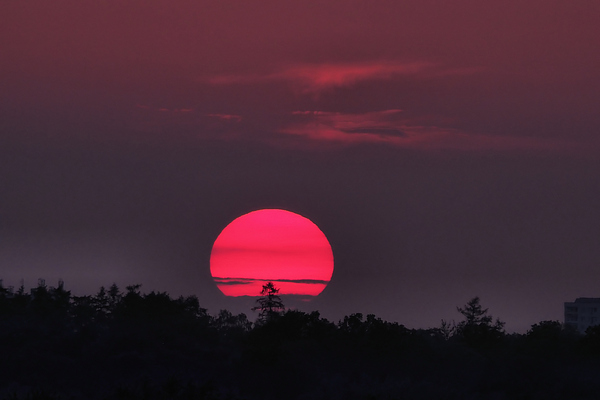 Olympus E-M1 Mk.II, MZD 75-300/4.8-6.3 at 300 mm, cropped
AP (-2 EV): 1/200 s at F/11, ISO 800, WB 5400K

You have been warned:
last night I re-shot my blue-hour balcony scene, this time without HDR and at ISO 400. The exact time was
9:38 PM
.
With no HDR, the underexposure was as intended, a perfect material for JPEG postprocessing. I applied just a little of Fill Light and Local Tone Mapping, then a tad of Lightness in green, and finally moved mid-tones down a little in Curves. This was followed by some sharpening and denoising, although these were not really necessary. No masking.
While the "golden hour" shooting (just before the sunset or, for early birds, just after the sunrise) is quite common, the "blue hour" (just after sunset or before sunrise) remains a less-explored territory. Too bad, as it is capable of delivering some most pleasing, and often unexpected, results.
The Blue Magic is my newly-posted article on the subject; just a starter (appetizer?) at the moment, with more to come.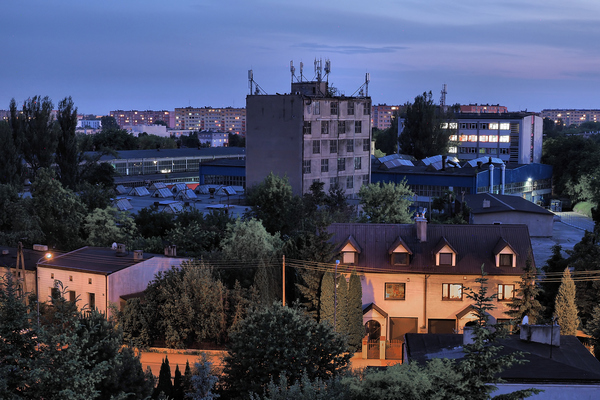 Olympus E-M1 Mk. II, MZD 12-100/4.0 at 29 mm
AP (-0.3EV): 8 s at F/8, matrix, AF, light tripod and

OI Share


Natural Picture Mode (S-1,C-1)
Moderate postprocessing in Paint Shop Pro 20
This picture was taken last night at 9:34 PM
, more than 45 minutes after the sunset. The abandoned factory amidst concrete block apartment buildings; something Philip K. Dick-ish.
All frames, shot in the HDR Mode 1 with exposure compensation set from -1 to +0.3 EV, turned out underexposed and, strangely, the compensation value did not seem to matter. I suspect that's what happens on the E-M1, without any warning, when you run out of usable exposure range in HDR.
I was prepared to throw them all away and re-shoot the session tonight (no HDR this time), but then changed my mind. Slight perspective correction in PSP 20, followed by Fill Light, Local Tone Mapping and boosting the lightness of greens, did the job.
Admittedly, the postprocessed image looks nothing like I remember the scene. I like it better this way.
Still, I will be coming back to this motif, unless I get a restraint order. Consider yourself warned.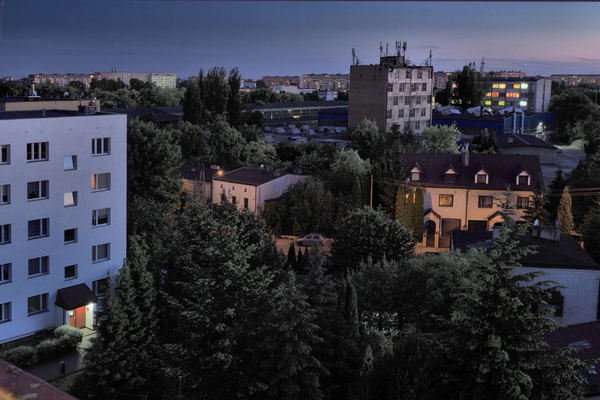 Olympus E-M1 Mk. II, MZD 12-100/4.0 at 20 mm
HDR-1 Mode, AP (-1EV): 4 s at F/8, bracketing ± 1EV, matrix
MF (peaking), light tripod
Heavy postprocessing in Paint Shop Pro 20
Swapper and Flipper, two Web-authoring tools I wrote to use on this site, got a detailed technical write-up in the new Photo Bytes section, devoted to using computers in photography.

Those who dabble into Web development may want to try Swapper and Flipper out: the downloads are tiny and don't require any other software beyond a Web browser and text editor.

This Picture: another snapshot of the famous Piotrkowska Street in Łódź, Poland. This time an artist's studio, overlooking a crowded pedestrian area. And yes, I'm showing three very different versions of this picture in a Swapper. (The others are more heavily postprocessed, and my preference varies with the time of the day and the phase of the Moon.)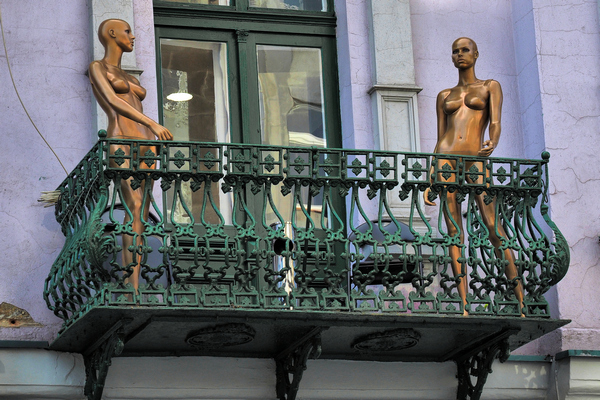 Olympus E-M1 II, MZD 12-100/4.0 at 61 mm
AP (-0.3 EV): 1/250s @ F/5.6, ISO 200