There was a game on the Atari ST, called Stone Age, which I've spent many hours playing. (On other computers, different variants of that game were known as Digger or Boulderdash.) Unfortunately, in the early Nineties I had to retire my old ST, and couldn't find a decent version of the game for the Windows platform.

This is where being a software engineer comes handy. You need it, you write it yourself. That's exactly what I did, back in '96. Since then the program, distributed as shareware, went through a number of major and minor improvements, becoming much more popular than I ever expected.

In the first year Mr. Matt had almost fifty thousand downloads from this page — and it is still going strong, at about two thousand downloads every month (as of mid-2006).

Playing this simple yet addictive game is simple: you are Mr. Matt, digging through a cave, eating apples (carrots, hamburgers, pumpkins), and avoiding falling stones. No shooting, no killing — just thinking ahead and hours of endless frustration...

Some of the levels are simple enough for a six-year old to complete, some others require quite a lot of planning. Simple does not mean trivial. (And, yes, all levels are passable.)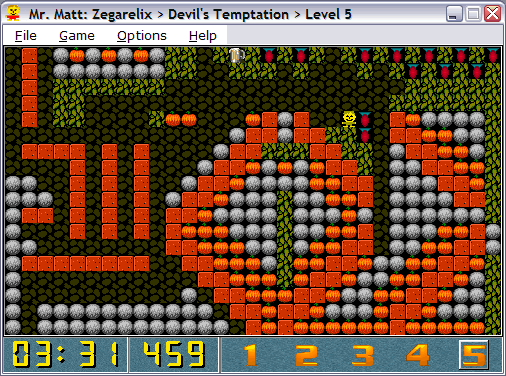 Mr. Matt is distributed as shareware. Without registration you can play the ten games (48 levels) included with the program. If this is enough, fine: you do not have to register; feel free to keep the program as long as you wish, and give it away to anyone.

When you register, however, you will be able to design and edit your own games and to play additional games for Mr. Matt, which are frequently posted here: currently more than seven hundred extra game files (almost 4000 levels) are available and the number is growing. There is also a world-wide player ranking, updated every few months.

With apology, the registrations are currently not supported, and the updates to extra game files and player ranking have been suspended indefinitely — until further notice.

So here is Mr. Matt. I hope you will enjoy the program.