Samarkand. One of the important cities in history, a capital of empires, and the place where the legendary Tamerlane, or Timur the Lame, was laid to rest; then, in late XX century, a forgotten, remote corner of the Soviet state. This is when I visited the place, three times.
Here are some ORWO slides, scanned fifteen years ago to a Kodak Photo CD and postprocessed (again) just last recently (2018). These are not my best pictures, far from that. Still, I want to showcase them in my Gallery.
Technical Note: This page uses my new Flipper image-browsing tool. Clicking on a thumbnail takes you, like before, to a full-screen image view, but now you can browse all images without going back to the thumbnail page.
While captions are provided for all images in the Flipper display, here is a quick list of architectural monuments shown, in case you are looking for something in particular: the Registan (madrasahs Ulugh Beg, Tilya-Kori, and Sher-Dor), Bibi-Khanym Mosque, Hazrat-Hyzr Mosque, Gur Emir (Timur's Mausoleum), and the Shah-i-Zinda necropolis.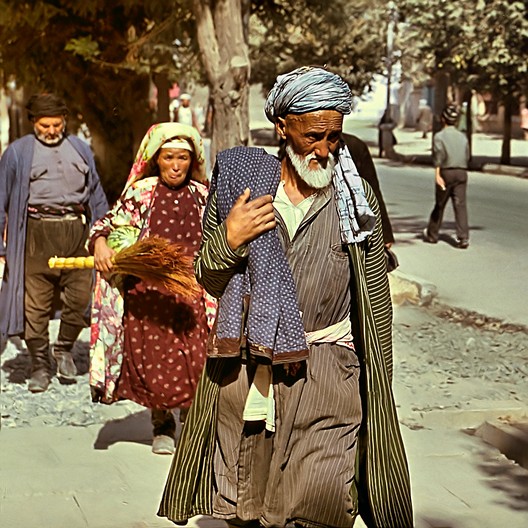 A man passing by (1970)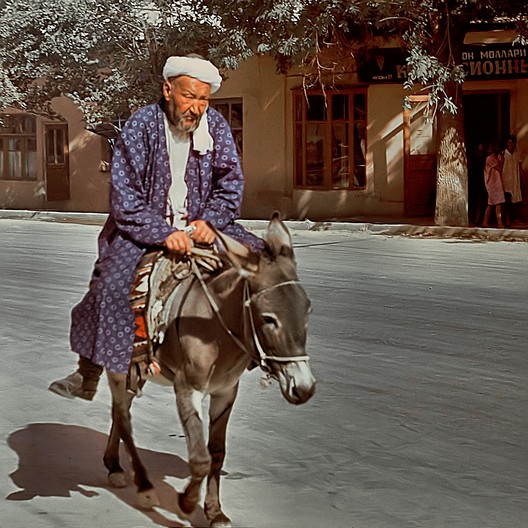 Riding a donkey (1970)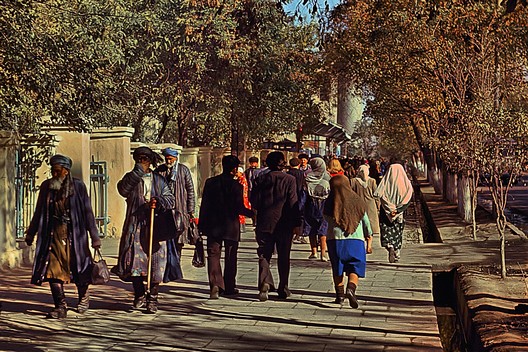 Downtown street (1975)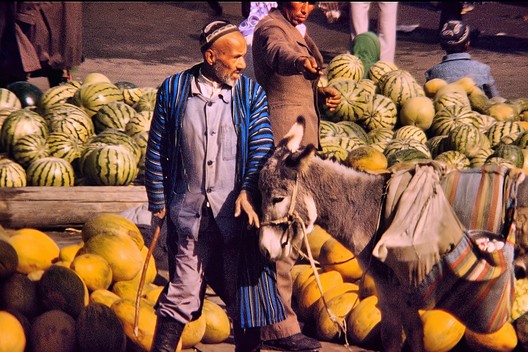 Friends at the market (1981)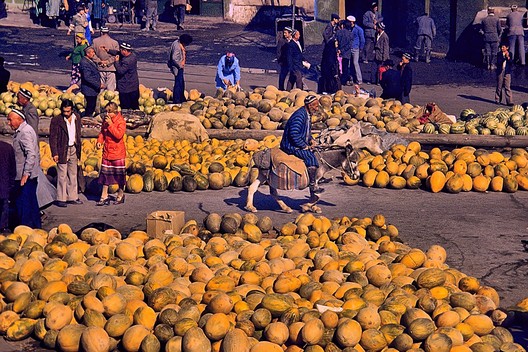 Local crops (1981)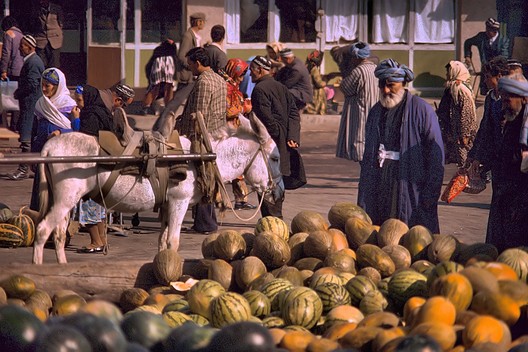 Another market scene (1981)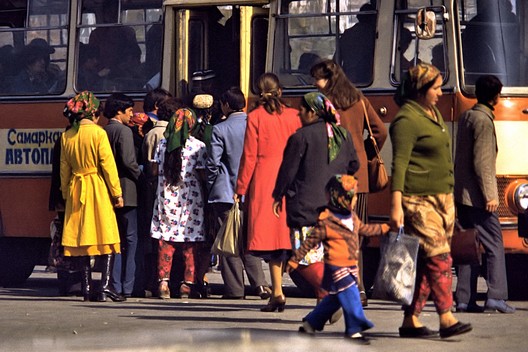 Bus stop (1981)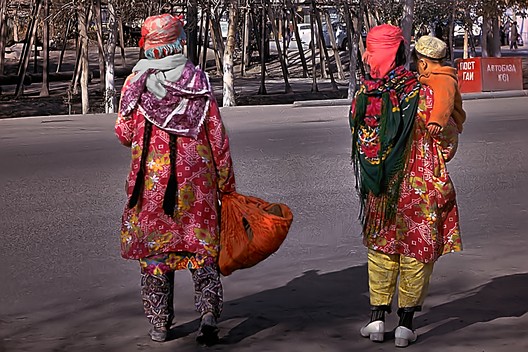 Young women dressed up (1975)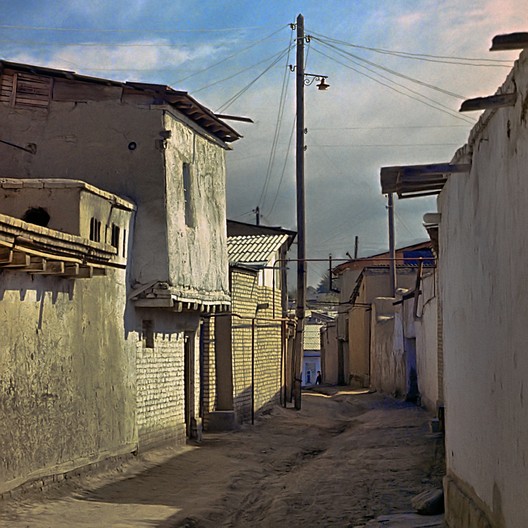 Back alley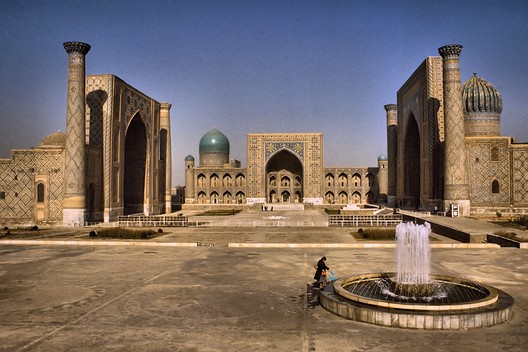 Registan, general view (1981)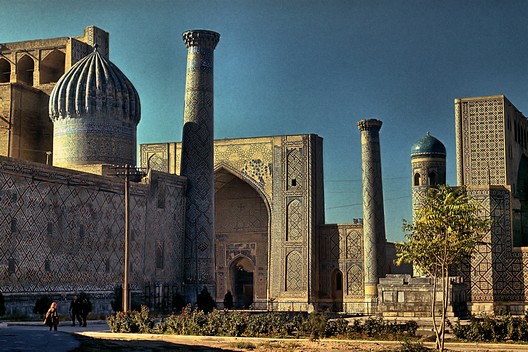 Registan, madrasah Ulug Begh (1975)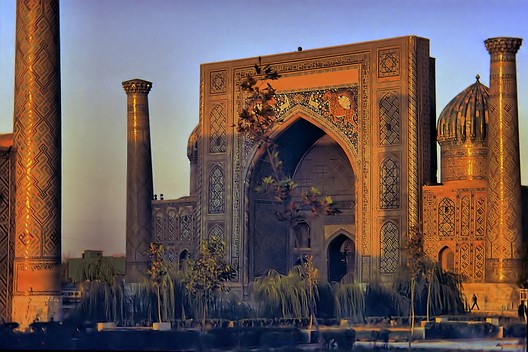 Registan, madrasah Sher-Dor (1981)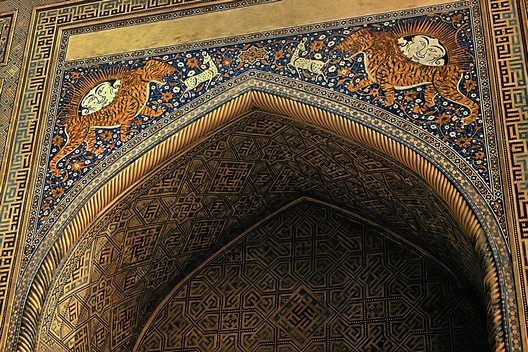 Unique mosaic of Sher-Dor (1975)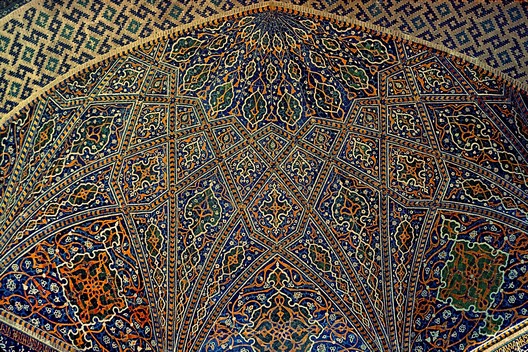 Mosaic at Tilya-Kori (1975)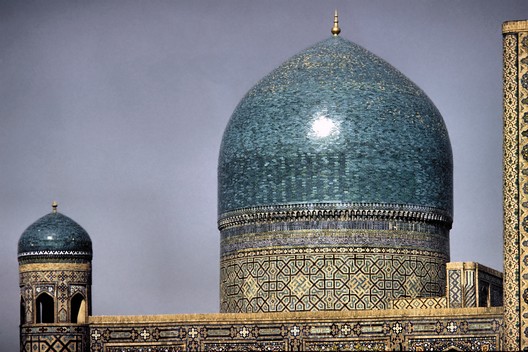 Madrasah Tilya-Kori, detail (1981)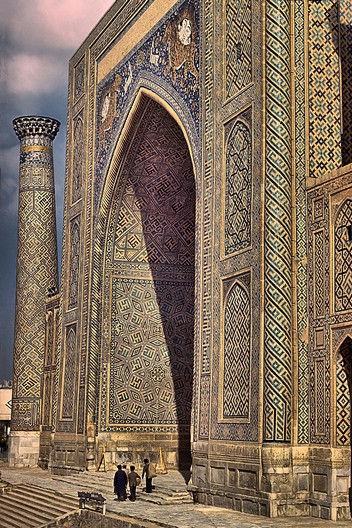 Madrasah Sher-Dor, portal (1975)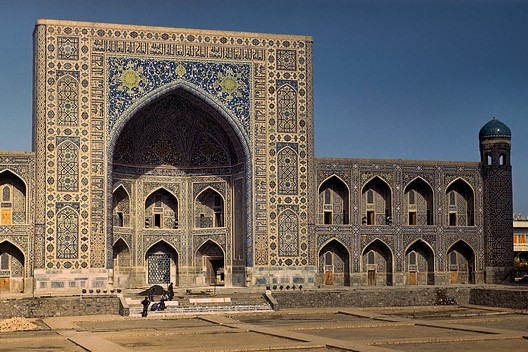 Madrasah Tilya-Kori (1975)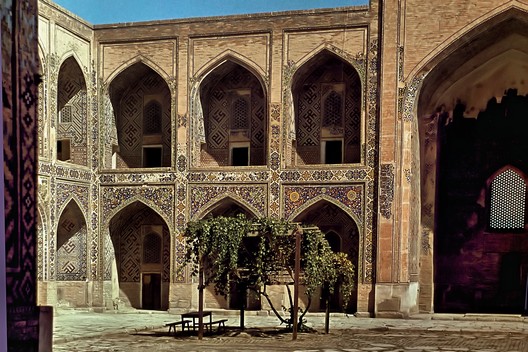 Madrasah Ulugh Beg, courtyard (1970)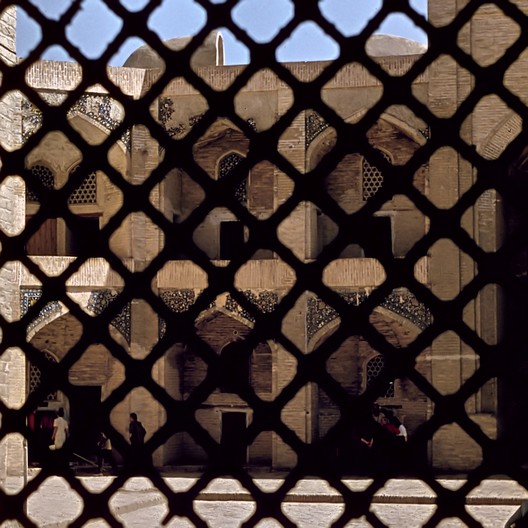 Another Madrasah courtyard (1970)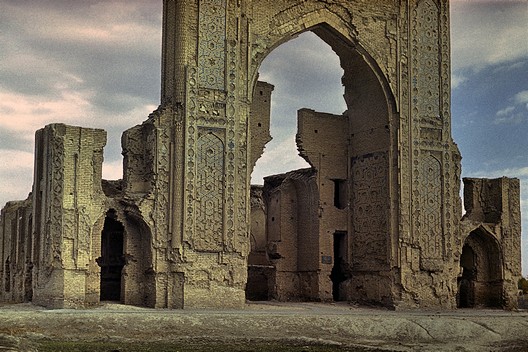 Bibi-Khanym Mosque (1975)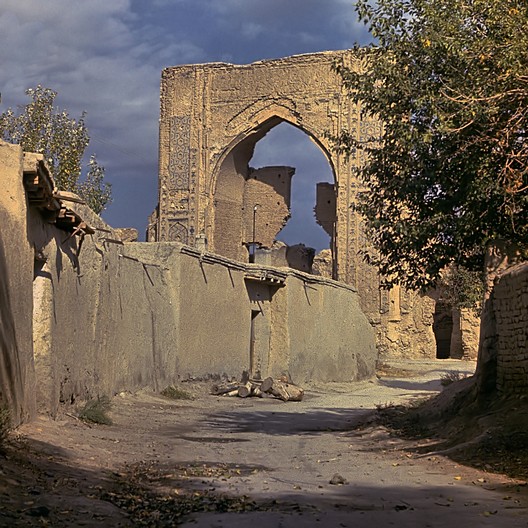 Back alley at Bibi-Khanym (1975)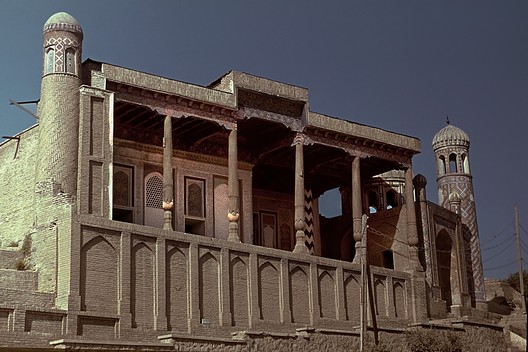 Hazrat-Hyzr Mosque (1970)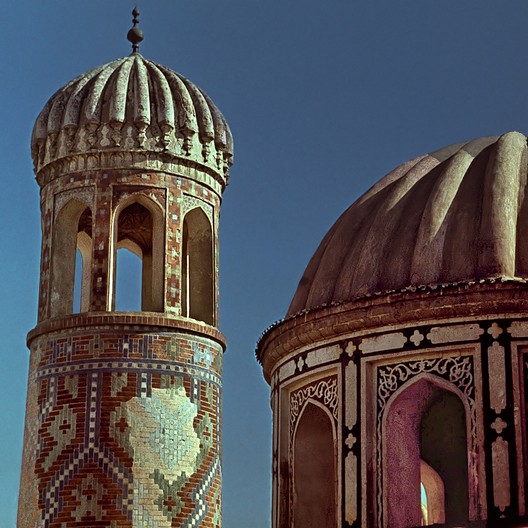 Hazrat-Hyzr, detail (1970)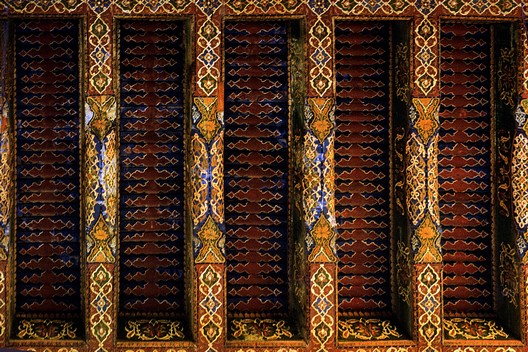 Hazrat-Hyzr, porch ceiling (1981)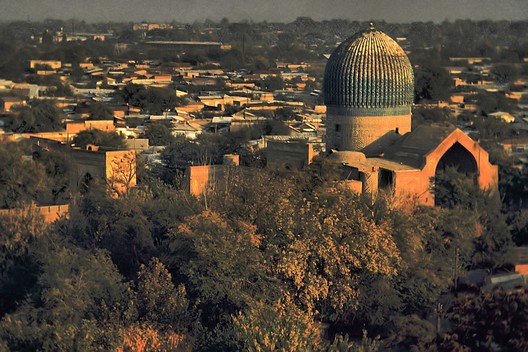 Gur Emir, Timur mausoleum (1981)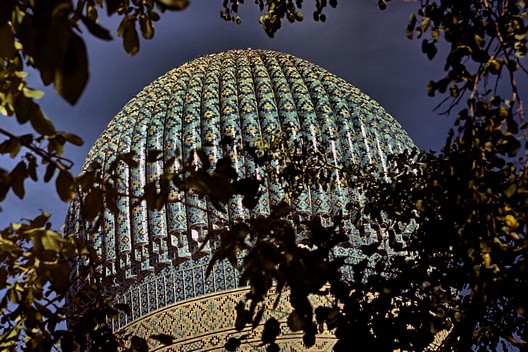 Gur Emir, Cupola (1970)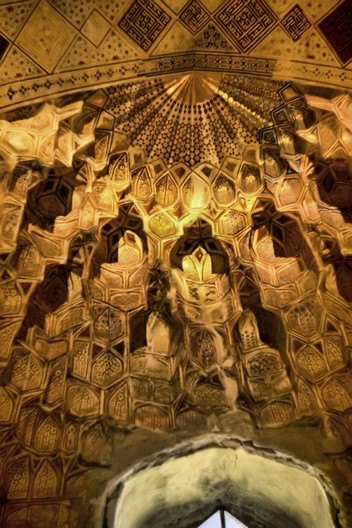 Inside Gur Emir (1975)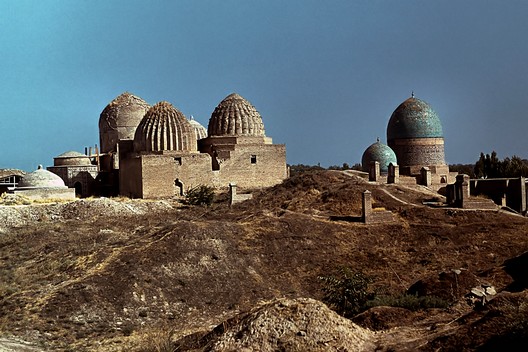 Shah-i-Zinda, upper parts (1970)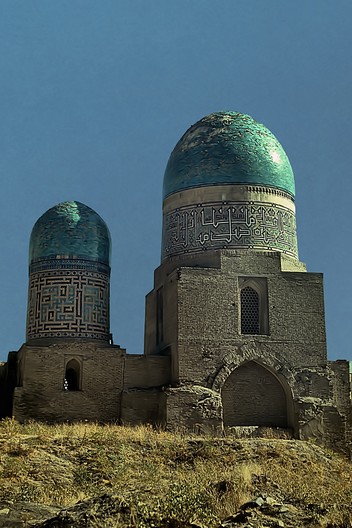 Upper Shah-i-Zinda (1975)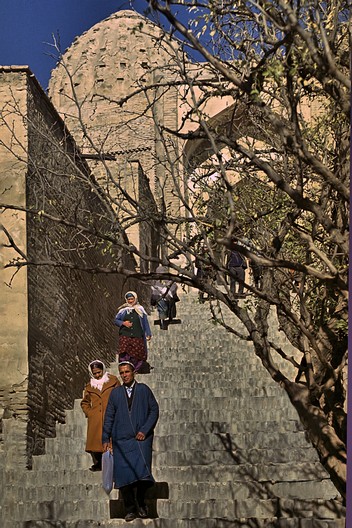 Shah-i-Zinda, main entrance (1970)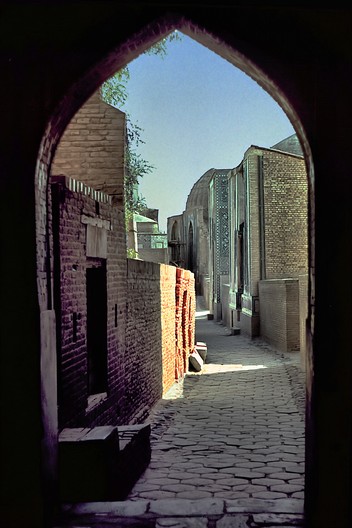 Shah-i-Zinda, main passage (1970)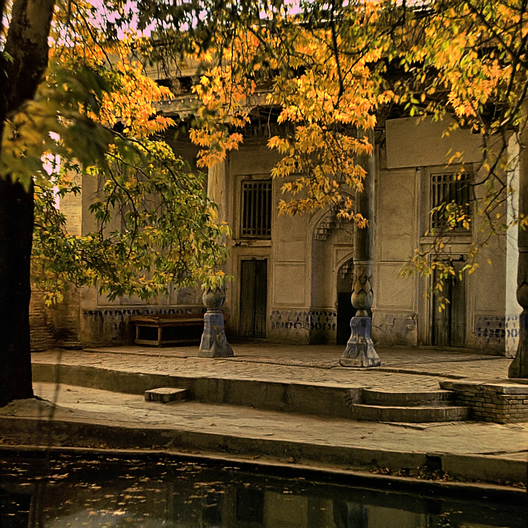 Unidentified mosque with a pond (1970)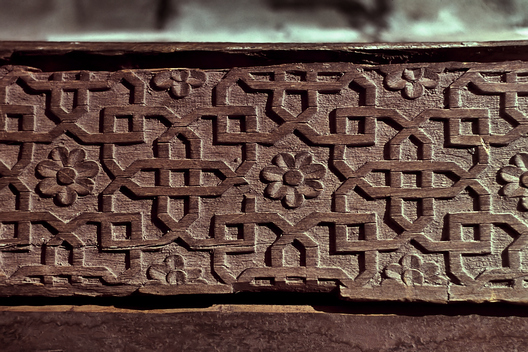 A wooden detail (1970)