Program: TextPad

Categories: Utility, Text Editor

Vendor: Helios Software Solutions

Registration: $27 (upgrade from versions before 3.2.5: $10)

More info and download
A good text editor is worth its weight in gold. TextPad comes very close, closer than any other program I've tried on the Windows platform. It is fast, well-behaved and cleanly written, has the right look and feel, and tons of features which do not get into your way when you do not need them.

You can use TextPad with virtually unlimited number of files of unlimited size, open at a time. The program can indent blocks of text, compare and mark the differences between two files, translate text between Windows and DOS character sets, and then some. It will convert files between UNIX and DOS/Windows formats (these annoying differences in line breaks!), it also has multiple undo/redo capability, multi-file search and dozens of handy features and nice touches.

There is also a macro recorder to help you automate some repetitive tasks - I have used it a number of times, finding it quite easy and intuitive to use. The keyboard shortcuts for most of the operations can be easily customized.

When you register, you will get a spellchecker with dictionaries in eight or so languages, but also, most importantly, a piece of mind: it is just not right to use such a good program without paying its programmers for their quality work.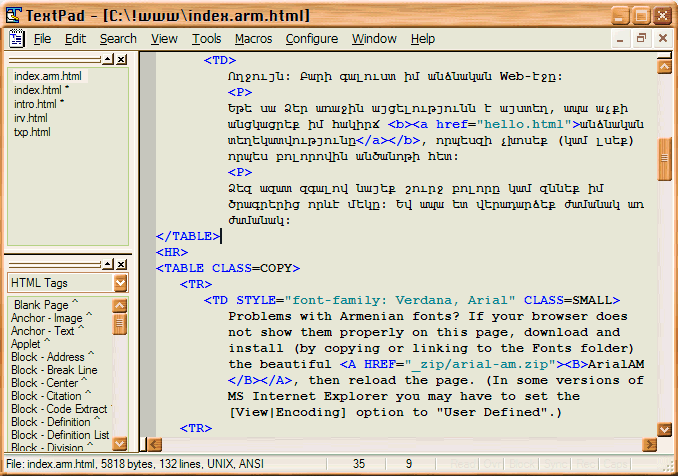 Updates with new features are released quite often and - what a relief! - usually do not require a new registration (after five years and quite a few upgrades I finally had to pay $10 to go up to Version 4.0). The program is quite inexpensive that trying it out is a must, and the chances are TextPad will become one of the most useful applications in your collection.

Update:The current version is 4.6, released in January, 2003. It introduces a few dozen of smaller and greater improvements, and a number bug fixes (although I wasn't affected by any, using TextPad very heavily on a daily basis). The whole distribution still takes only 2.5 MB.

Note: If you are a programmer, then before registering TextPad you should also try another very good text editor: UltraEdit (the latest version is 7.10). The program matches all significant features of TextPad, adding one missing in the latter: text search-and-replace across multiple files (without having them all open in the editor), something I find quite useful in programming or HTML design.

UltraEdit ($30) is not exactly shareware; the trial version expires after six weeks, while TextPad ($27) continues vorking indefinitely (albeit with a nag screen), but sooner or later you will want to register the one you choose (well, I've registered both!).

The choice is not easy: with the two exceptions mentioned above the capabilities of both programs are very closely matched. I still consider TexPad to be somewhat more streamlined and easier to use, but you may need UltraEdit's multi-file search and replace. The race is, indeed, very close and the result may depend on your personal preferences.